Out Today:
House of the Rising Sun by James Lee Burke -
After a violent encounter that leaves four Mexican soldiers dead, Hackberry escapes the country in possession of a stolen artifact, earning the ire of a bloodthirsty Austrian arms dealer who then places Hack's son Ishmael squarely in the cross hairs of a plot to recapture his prize, believed to be the mythic cup of Christ.
Along the way, we meet three extraordinary women: Ruby Dansen, the Danish immigrant who is Ishmael's mother and Hackberry's one true love; Beatrice DeMolay, a brothel madam descended from the crusader knight who brought the shroud of Turin back from the Holy Land; and Maggie Bassett, one-time lover of the Sundance Kid, whose wiles rival those of Lady Macbeth. In her own way, each woman will aid Hackberry in his quest to reconcile with Ishmael, to vanquish their enemies, and to return the Grail to its rightful place.
Ornaments of Death Jane K Cleland -
Christmas lights twinkle throughout the cozy coastal town of Rocky Point, New Hampshire, and Prescott's Antiques auction venue has been transformed into a winter wonderland for Josie Prescott's annual holiday party. Josie is especially excited this year—Ian Bennington, a recently discovered distant relative, will be joining the fun. Both Ian and Josie are, it seems, descended from Arabella Churchill, a 17th century royal mistress. The party is a success and Ian is a hit. It gives Josie an unexpected thrill to have family—and unexpected dread when he vanishes.
Ian doesn't keep his dinner date with Josie's good friend, Lavinia, or his lunch date with her. Surely, he would have done so—if he could. Ian has given his daughter two priceless 17th century watercolor miniature portraits, one of Arabella and one of her lover, King James II, and they've gone missing, too. Knowing that after her nasty divorce, Lavinia is facing financial ruin, Josie can't help wondering if her friend is behind the theft—and Ian's disappearance.
Determined to find Ian, Josie uses her knowledge of antiques to track the miniatures. In doing so, she learns the true meaning of Christmas—and the true meaning of family.
Blood, Salt, Water by Denise Mina -
DI Alex Morrow and her team have been shadowing a woman suspected of being involved in a large drug-smuggling and money-laundering operation. Roxanna Fuentecilla recently moved from London to Glasgow under suspicious circumstances, and Morrow's bosses want all the glory when she's finally arrested. But then Roxanna disappears. She's left her partner and her two children, and something about the situation, and the children's evasive attitude, leads Morrow to question what's really going on.
In the nearby picturesque town of Helensburgh, Iain Fraser is struggling to live with his overwhelming guilt. Under orders from the infamous Mark Barratt, he's just killed a woman, and now he's left with blood on his hands. Meanwhile, Miss Grierson, a former scout leader who left the sleepy seaside town decades ago, has returned. Allegedly she's back to sort out her recently deceased mother's estate, but Iain suspects she has an ulterior motive.
A Dictionary of Mutual Understanding by Jackie Copleton -
When Amaterasu Takahashi opens the door of her Philadelphia home to a badly scarred man claiming to be her grandson, she doesn't believe him. Her grandson and her daughter, Yuko, perished nearly forty years ago during the bombing of Nagasaki. But the man carries with him a collection of sealed private letters that open a Pandora's Box of family secrets Ama had sworn to leave behind when she fled Japan. She is forced to confront her memories of the years before the war: of the daughter she tried too hard to protect and the love affair that would drive them apart, and even further back, to the long, sake-pouring nights at a hostess bar where Ama first learned that a soft heart was a dangerous thing. Will Ama allow herself to believe in a miracle?
Precious Gifts by Danielle Steel -
One act of love will change one family's destiny
As a devoted mother, Veronique Parker has dedicated herself to her three daughters, before and since her divorce.
Her world is turned upside down when her former husband dies suddenly, leaving her and their daughters astonishing inheritances: a painting of mysterious provenance, a château in the south of France, the freedom to pursue their dreams, and a shocking revelation from the past.
The precious gifts he left will lead them on a journey certain to change Veronique and her daughters' destinies in the most surprising of ways . . .
Commander in Chief by Tom Clancy -
When Russian President Valeri Volodin's ambitions are foiled in Dagestan, he faces a difficult choice. The oligarchs who support him expect a constant flow of graft, but with energy prices cratering, the Russian economy sputters to a virtual halt. Unable to grow the Russian market at home, his hold on power relies on expansion abroad—a plan that has been thwarted by the United States in the past.
But this time Volodin has determined that an indirect approach is the best. A floating natural gas facility in Lithuania is blown up. A Venezuelan prosecutor is assassinated. A devastating attack on a Russian troop train kills dozens. A chaotic world is the best camouflage for a series of seemingly unrelated attacks.
Only one man recognizes an ominous pattern in the reports of terror from around the globe. U.S. President Jack Ryan sees a guiding hand in the worldwide chaos, but before he can act he needs proof.
While his intelligence agencies race to uncover the truth behind the attacks, the President struggles to unite a fractious and distrustful coalition of Western nations against the schemes of the Russian dictator.
With five thousand Russian troops poised to invade a NATO nation, can Jack Ryan move swiftly enough to stop Volodin's grand plan of global conflict and conquest? Or will he succeed in changing the balance of world power forever?
Gateway to Fourline by Pam Brondos -
Years before, a gateway opened between their world and ours. Sending one young woman through may be the key to survival for the kingdom of Fourline.
Strapped for cash, college student Natalie Barns agrees to take a job at a costume shop. Sure, Estos—her classmate who works in the shop—is a little odd, but Nat needs the money for her tuition.
Then she stumbles through the mysterious door behind the shop—and her entire universe transforms.
Discovering there's far more to Estos than she ever imagined, Nat gets swept up in an adventure to save his homeland, an incredible world filled with decaying magic, deadly creatures, and a noble resistance of exiled warriors battling dark forces. As she struggles with her role in an epic conflict and wrestles with her growing affection for a young rebel, Soris, Nat quickly learns that nothing may go as planned…and her biggest challenge may be surviving long enough to make it home.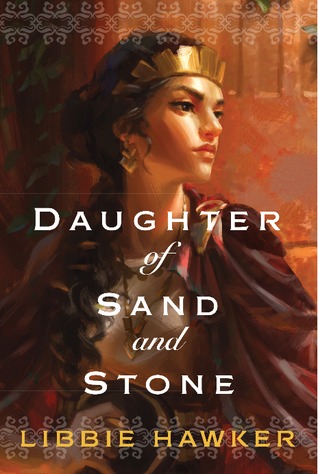 Daughter of Sand and Stone by Libbie Hawker -
When Zenobia takes control of her own fate, will the gods punish her audacity?
Zenobia, the proud daughter of a Syrian sheikh, refuses to marry against her will. She won't submit to a lifetime of subservience. When her father dies, she sets out on her own, pursuing the power she believes to be her birthright, dreaming of the Roman Empire's downfall and her ascendance to the throne.
Defying her family, Zenobia arranges her own marriage to the most influential man in the city of Palmyra. But their union is anything but peaceful—his other wife begrudges the marriage and the birth of Zenobia's son, and Zenobia finds herself ever more drawn to her guardsman, Zabdas. As war breaks out, she's faced with terrible choices.